Irish U S A
ENTERTAINERS & PUBS & MORE
IRISH FEST ON FLAGLER 2009

Official Website is: www.irishflorida.org
MEYER AMPHITHEATER
WEST PALM BEACH, FLORIDA
March 14-15, 2009
1-800-882-ERIN
The Irish Cultural Institute of Florida, Inc.

FEATURING

Prodigals--The Prodigals which takes its name from a line in "The Wild Rover", is describesd as Irish traditional funk rockers with more contemporary rhy

thms than the Pogues, and combining the elements of rock and traditional in their furious jigs and reels.
Mac Talla Mor
Gaelic for "Great Echo", MacTalla Mor features the Great Highland Bagpipes, played by champion pipers, an award winning Gaelic singer, piano and Bodhran in a dynamic mix of Traditional Celtic Roots, Rock, Jazz, Calypso and Fusion….and there's even a magician! This amazing band has been described as a powerful blend of Celtic Rock with Bagpipes on Fire. Don't miss the dueling bagpipe duet, just stand back.


The Young Wolfe Tones with Derek Warfield Celebrating 40 years "on the road", entertaining hundreds of thousands of fans in most every country in the world, the legendary Derek Warfield has achieved an honored place in Irish history that few musicians could hope to obtain. As a historian, singer, songwriter, mandolin player and leader of the legendary Wolfe Tones, Derek has beguiled and entertained audiences young and old alike who enjoy the energy, the patriotism, and the sheer fun of it all.


Noel Kingston--Festival favorite and Master of Ceremonies, Noel Kingston has performed as a band leader, radio host, TV personality, and concert performer. His many recordings, stage appearances, and cultivated tenor voice have made him one of the most popular performers in the Irish American scene.

Palm Beach Pipes and Drums returns this year to add to the Celtic atmosphere. They perform throughout the Fest grounds as well as on stage.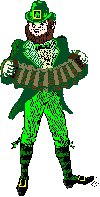 The craic can't be beat!
Don't Forget the Kids !!!!!
CHILDRENS VILLAGE - MARIONETTE SHOW - FACE PAINTING - BOUNCE HOUSE - JUGGLERS - WALL CLIMBING - SAND ART - STROLLING CLOWNS - MAGIC SHOWS - ARTS AND CRAFTS - MUSICAL WORKSHOPS--RIDES
Admission, Times, Directions
Tickets available at the gate. Adults $12 - Children under 14 Free -
Friday 6-11pm
Saturday Noon-11pm - Sunday 12am-9pm -
Sunday Gaelic Mass at 11:00 am.
Directions: Downtown West Palm Beach, I-95 Exit at Okeechobee. East to Flagler and Right turn to festival.
Irish Cultural Institute of Florida, Inc.
Executive Director: Sheila Hynes
1-800-882-ERIN
E-mail address: irishinst@aol.com



The Irish Cultural Institue of Florida, Inc. has a dream motivated by a legacy. This precious legacy has been bequeathed to us by our ancestors. Our members know that they must ensure that our traditions and heritage are preserved for the children of today and those of future generations.

Our Aims
This group exists to preserve and foster the precious legacy of our Irish Culture which has been handed down to today's generations. It is our intention to build on that legacy by developing programs to assist and encourage those who wish to further develop and propagate all segments of Irish Cultural activities. Furthermore, we believe the Irish American branch of our race as a whole can play an important part in recognizing the special cultural aspects which have developed in the United States of America. We know it is no less than our duty to develop our Irish American culture as a distinct facet of the total culture of the Irish people.

SPECIAL PROJECT
It is our intention to design and build an Irish Cultural Center. This building will be custom designed to serve the cultural needs of the Irish American community of South Florida. It is intended that the center will house a museum of Irish artifacts, a library containing books, periodicals and video tapes pertaining to Irish Culture, a theatre and workshop, art studios, lecture and meeting rooms, social facilities and sports amenities, both inside and outside.
Our first job will be to select a suitable location which will be in Broward County, thereby giving reasonable access to those residing in the adjoining Dade and Palm Beach Counties.
Having established the first cultural center, the Institute will then look to promoting similar ventures in other parts of Florida.

OTHER BENEFICIARIES OF THE INSTITUTE
It is our endeavor to encourage other groups throughout Florida to foster the culture which is the heritage of all Irish American People. We will therefore contribute, both financially and by other means of support, to the activities of worthy organizations where they relate to Irish Culture.
It is intended that the Irish Cultural Center will serve as a focal point for the Irish-American community of the area and will ensure that our rich heritage is maintained for our children.
You are invited to join The Irish Cultural Institute of Florida, Inc. and help its members to achieve their goals.








E-mail address: irishinst@aol.com
Travel Links

www.Cheap-Hotels-Airline-Tickets.com
---
© 2009 IrishUSA
Page design, text, and graphics copyright 2001 by Patty Simpson
Copying, replicating, and mirroring prohibited.
Author: Patty Simpson Email: <musiclinkco@msn.com>
Updated: January 2009