Biography
Home Tour Schedule

last updated 1/7/2013
Sean Fleming
Sean Fleming has talent that is as wide and varied as his lifestyle, from his birth in a Golf Club House ("....it's no wonder I'm a golf nut," says Sean) on the shores of the beautiful Lakes of Killarney to his many, many appearances in the United States such as in Philadelphia at the Robin Hood Dell where he performed to an audience of 9,000, on the Merv Griffin Show and as the Headliner at Carnegie Hall to a sold out house.
Sean began playing traditional Irish music in Irish dance halls and then his ambition as a singer began to take shape and he formed the Rocketeers Irish Showband. The Rocketeers toured through out the U.S. and Canada playing in major cities such as Chicago, Boston, New York, San Francisco and Toronto. Sean's first big break came through the help of someone that holds a special place in Sean's memory, Merv Griffin. Sean was chosen from the audience to perform on Merv's Show which consequently led to several more appearances over the next couple of years on the Merv Griffin Show. Sean shared the spotlight with such artists as the Beach Boys, David Soul, Della Reese and Rodney Dangerfield. The shape of his career was becoming quite definite when he signed with MGM records and MGM motion pictures. However, it took an abrupt twist when he was called by Uncle Sam.
After serving Uncle Sam, Sean found himself back in New York starting all over again. His beginnings this time were spent working in small clubs and bars, which eventually led to many concert performances,

including the one he gave in Philadelphia to 9,000 people. Other appearances include: the Irish Cultural Center in San Francisco and Southern Florida; Warner Brothers Theatre, Ohio; Westchester Country Club, New York; Flanagan's in New York, and his own bar in New York City through 1994, Ireland's Four Provinces and Cellar Door Productions in Washington D.C.(The Bayou)and Alexandria, Virginia's Birchmere, Music Fest Bethleham, PA and all over the united states with the Irish Tourist Board . Also to his credit are many radio shows and television appearances (including the PBS "Out of Ireland" series) throughout the United States, Ireland, Japan, Argentina, the Philippines and the Czech Republic.
Steve Holley's drums should sound familiar to millions of people. Steve is best well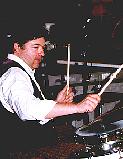 known for backing some of the biggest stars in the history of entertainment, such as Paul McCartney & Wings, Elton John, Kiki Dee, Joe Cocker, Julian Lennon. Also, in the past year, Steve has recorded several albums with various country and blues artists including Katy Moffat and Junior Brown and upcoming star Dar Williams. Steve's talent brings true professionalism and unparalleled percussion to the Sean Fleming Band. Check out Steve's CD "Reluctant Dog". You can purchase it through www.steveholley.com
Justin is a professional musician who splits his time between studio and live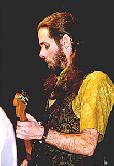 performances. He has played with a number of different bands including the Turtles (Flo & Eddy), the Shirelles, Joey Dee and the Starlites, Frankie Ford and many other bands from the golden days of rock and roll. He is currently working with the Sean Fleming Band, which is an Irish rock band.
Justin's guitar playing and songwriting can be heard on several independent label releases including Zombies On Broadway (Liquid Blue records), the Reputations (J-Bird records) and most recently, Joey Green (Four Oak records). Justin's other studio work includes television commercials and off-Broadway productions. Justin has his own CD entitled "Desert of Dreams" which you can find at www.justinjordan.com
Bruce Gordon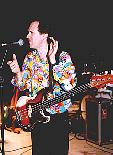 Bruce spent a number of years playing blues and R&B in Buffalo, NY after which he moved to London for a year and recorded with Ray Davies of "The Kinks". Then he toured England with a British band called "Moonstone". Upon return to the US, Bruce formed a new wave band called "Fast Food" and the the "Screaming Honkers" who appeared in the movie "Ishtar" and produced a video shown on national TV. Bruce also plays in a country and western swing band called "The Jazz Cowboys".

© 2013 IrishUSA
Page design, text, and graphics copyright 2013 by Skip Linehan and Patty Simpson
Copying, replicating, and mirroring prohibited.
Author: Patty Simpson Email: <musiclinkco@msn.com>
Curator: Skip Linehan Email: vze369du@verizon.net